Do data on patent litigation support the European Commission's proposed new rules on standard-essential patents?
At the end of April, the European Commission published a regulation which Commissioner Thierry Breton says will modernise the EU framework for standard-essential patents (SEPs). SEPs are patents that are necessary to practice the industry standards, such as 5G, that define the modern economy.
The Commission claims the proposed regulation is needed because self-regulation has not decreased the number of SEP licensing disputes and these disputes are likely to increase in the future. However, empirical studies, including ones which the Commission ordered and on which the EU executive relies, do not support this conclusion. In fact, these studies reach the opposite conclusion—SEP licensing disputes are rare and have been decreasing over time.
Given this, we believe that the Commission should withdraw its proposal and update its impact assessment before tabling any new proposal.  
One does not have to look far to find relevant data about SEP licensing disputes. A study commissioned by the EU executive and used as a basis for its impact assessment for the regulation finds that SEP litigation has been decreasing both in absolute and in relative terms. More specifically, when looking at disputes involving disagreements over the so-called fair, reasonable, and non-discriminatory (FRAND) licensing terms for SEPs, the study finds that the peak was reached in 2014 with the number of disputes generally declining thereafter. Notably, as seen in Figure 1, 2021 had the lowest number of FRAND disputes in the last twelve years.
Figure 1: Number of citations of "FRAND" in worldwide patent litigation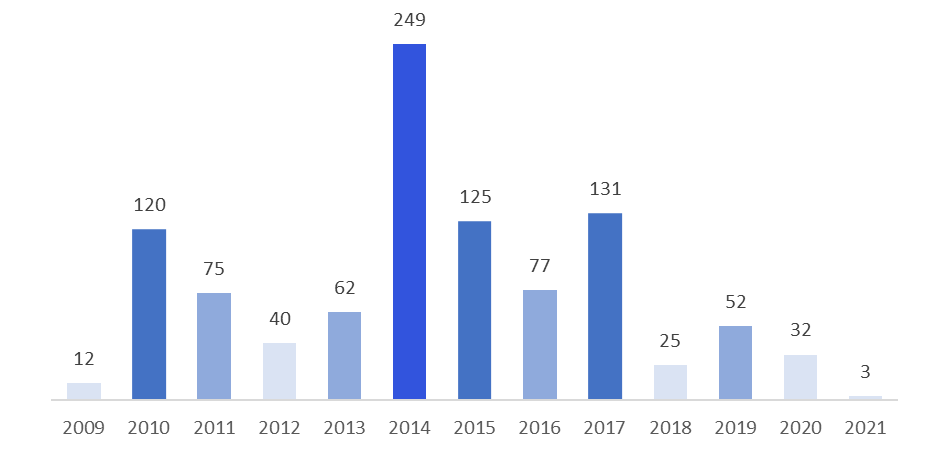 Source: J. Baron et al., "Empirical Assessment of Potential Challenges in SEP Licensing" (2023): 71
This same study finds that the share of SEP disputes out of total patent disputes has also declined. In other words, data show that there are fewer SEP disputes overall, and they represent a decreasing share of all patent disputes. As seen in Figures 2 and 3, this conclusion holds both when looking at patent disputes globally and at patent disputes in Europe.
| | |
| --- | --- |
| Figure 2: Global* litigation counts – SEP vs Non-SEP | Figure 3: European litigation counts – SEP vs Non-SEP |
| *Includes US, China, and Europe | |
Source: J. Baron et al., "Empirical Assessment of Potential Challenges in SEP Licensing" (2023): 97
Finally, this study also examines whether potential disagreements over SEP licensing have other detrimental effects on markets. Specifically, it examines whether these disagreements lead companies to "opt out" of the standardisation system, for example, by decreasing companies' incentives to participate in standardisation activities or by forcing companies to delay or even completely abandon the implementation of some standards in their products. The study finds no evidence of such an effect. Rather, the study concludes that opt-out is more of a "theoretical possibility than an empirical reality," and describes a market with "healthy innovation and wide adoption" of standards.
This study—commissioned by the Commission itself—demonstrates that disagreements over SEPs are not likely to increase nor are they so acute as to require the adoption of a regulation that would stand the current system of SEP licensing on its head. The Commission should withdraw its proposal and amend its impact assessment before introducing a costly and unnecessary new bureaucracy to address a problem that the market has already solved.
This is the second in a series of blog posts about the flawed analyses that led the European Commission to flawed conclusions on standard-essential patents. You can read the first piece here.