We have already published several critiques of the European Commission's recent proposal for a new Regulation on Standard-Essential Patents (SEPs), as have many independent observers. In this post, we focus on the Commission's proposal for a new conciliation process for fair, reasonable, and non-discriminatory (FRAND) royalty rates. We show that data on SEP licensing disputes do not support any need for (yet) another FRAND conciliation process.
The Commission claims that existing methods of dispute settlement are not well suited to resolving FRAND royalty rate disagreements. In its view, national courts only consider the infringement of a small number of patents from potentially large portfolios. It believes the landmark European Court of Justice decision Huawei vs. ZTE is about the licensing negotiation process and the right to an injunction rather than FRAND determination. The Commission further argues that EU courts have held back from making national or global FRAND determinations and that alternative dispute resolution (ADR) is rarely used to settle FRAND disputes.
In fact, there is no factual support for the Commission's claim that existing dispute resolution mechanisms are inadequate for resolving FRAND disputes, nor is there a problem that a new FRAND conciliation process will solve.
FRAND disputes are rare
First, a little bit of background: FRAND disputes are rare. As shown in Figure 1, since 2018, on a worldwide basis, there have only been an average of 28 FRAND-related disputes per year and, in 2021, there were only three. This is consistent with the overall low level of SEP litigation. Figure 2 shows that since 2018 there have been an average 60 SEP-related litigations in Europe per year compared with an average of around 330 non-SEP litigations.
Figure 1: Number of citations of "FRAND" in worldwide patent litigation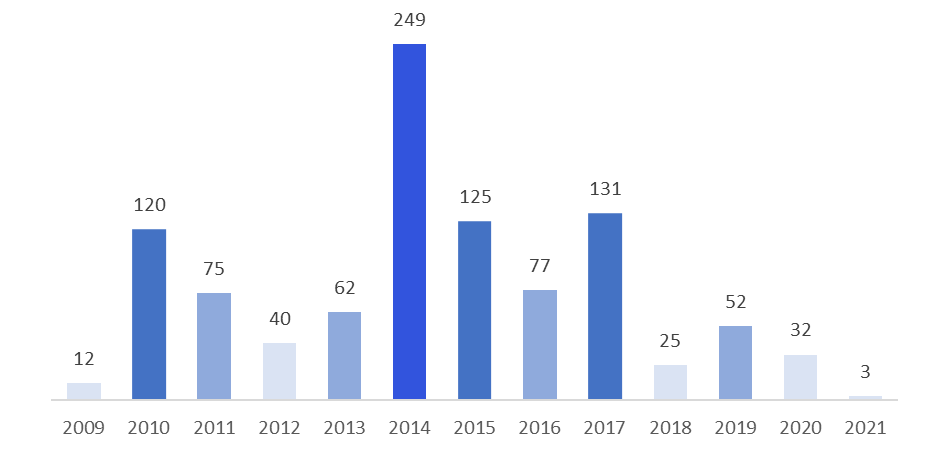 Source: J. Baron et al., "Empirical Assessment of Potential Challenges in SEP Licensing" (2023): 71
Figure 2: European litigation counts – SEP vs Non-SEP
Source: J. Baron et al., "Empirical Assessment of Potential Challenges in SEP Licensing" (2023): 97
ADR works
Litigated FRAND disputes are rare, in part, due to the availability of ADR mechanisms. While the Commission claims that ADR is rarely used, this claim is based only on a biased survey of registrants to a Commission webinar on SEP enforcement. The Commission itself acknowledges that parties, and SMEs in particular, avail themselves of World Intellectual Property Organisation's ADR mechanisms to address SEP disputes, including FRAND disputes. In particular, the impact assessment reports "that since 2021 there have been 65 SEP related [WIPO] mediation cases and over 60% of parties to WIPO SEP ADR proceedings are companies based in the EU" and that "in 94% of SEP [WIPO] ADR at least one party was an SME."
If each WIPO SEP mediation includes only one EU-based company, this suggests that 39 companies, or approximately 40 percent of all European SEP disputes (60 litigations on average and 39 mediations), are making use of ADR mechanisms. Given the low level of litigated disputes and the high take-up of ADR mechanisms by European firms, and by SMEs in particular, the Commission's conclusion that a new FRAND conciliation process is necessary lacks a factual basis.
Apples and oranges
Even if one assumes, for the sake of argument, that the proposed FRAND conciliation process is necessary, DG Grow overstates the likely effectiveness of its proposal in resolving FRAND disputes. It uses the WIPO mediation settlement rate of 70 percent as a benchmark for the settlement of FRAND disputes under its proposal. However, this settlement rate is for all types of disputes that WIPO mediates, including trademark and copyright disputes. Only 29 percent of WIPO's ADR cases are patent disputes. Given the complexity of many patent disputes and FRAND disputes in particular, it is reasonable to expect that the settlement rate for patent disputes may be far lower than WIPO's overall 70 percent settlement rate.
In addition, even if patent disputes have a similar settlement rate to other WIPO mediations, process proposed by DG Grow is unlikely to be similarly successful due to selection bias. Parties to WIPO ADR may either believe that the WIPO process is likely to resolve their dispute or they may have an idiosyncratic preference for ADR. In either case, the parties that choose ADR are the ones that are most likely to resolve a dispute using ADR. If parties were randomly assigned to ADR, we might not see such high settlement rates. The Commission's proposal requires all parties to use the proposed FRAND conciliation process, so the overall settlement rate will most likely be well below 70 percent. Therefore, the EC's conclusion that 24 court cases could be avoided through the use of its FRAND conciliation process is certainly overstated. So is the associated, theoretical cost savings.
Do over?
In summary, the impact assessment provides no support for the Commission's conclusion that existing dispute resolution mechanisms are inadequate for resolving FRAND disputes. If anything, the impact assessment provides evidence to the contrary.
As a result of this and other fundamental flaws, the Commission should withdraw its proposal. While this does not happen often, it has happened before – both in the EU, as well as in an analogous scenario in the US. (More on this fun topic in our next blog post)
This is the fifth in a series of articles critiquing different aspects of the Commission's SEPs proposal. You can see all the previous articles on our blog.