Standards enable people and companies to create products and services that are useful to consumers worldwide. World Standards Day celebrates the crucial role standards play in driving innovation in Europe and around the world.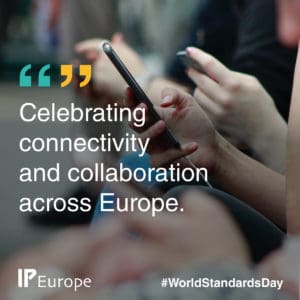 An example of the benefit of this open system of standardisation could be in your hand right now as you read this post – your smartphone. Open standards have enabled the development of connectivity and have resulted in the improved quality of your current mobile phone compared with your first one. Technical standards are essential to ensuring that products manufactured by different companies can operate and communicate with each other. Moreover, they ensure that the performance of these products increases at an incredible pace, as has clearly been the case with mobile phones. Today with 5G you can make calls, access internet, send videos thanks to the foundational R&D that is continuously contributed to technical standards.
Open technical standards are developed by Standard Development Organisations (SDOs) which bring together stakeholders from around the world who work to continuously improve each generation of standard. These standards often include innovative patented technologies which patent holders make available to other companies in exchange for a commitment to negotiate licenses under fair, reasonable, and non-discriminatory (FRAND) conditions—providing access to those standards to the entire value chain. Standards such as 3G, 4G, 5G, NFC, Wi-Fi and video streaming codecs are developed in SDOs through collaborative processes that encourage innovative companies to contribute and combine their cutting-edge technology into open standards in return for FRAND licence fees.
At IP Europe, we support this open standards system. Well known and tested rules allow companies and individual inventors to invest and reinvest in innovation with some expectation of compensation for the technology they have contributed to the standards. On an international level, many of these standards are substantially "made of Europe" contributing to the bloc's collective innovative strength – which directly feed back into the EU's drive towards strategic autonomy and technological sovereignty. In addition, consumers benefit by avoiding fragmentation of new technologies into proprietary ecosystems. Thankfully, there are not separate 5G standards for iOS and Android.
On this World Standards Day, we celebrate the many successes stemming from open standards and remind Europe of the need to defend this system for new successes to come. Having already played a vital role in fostering the creation of the single market, Europe's open system continues to allow companies across the EU to play a leadership role in the development of new technologies, and will continue to extend the reach of Europe's tech sector beyond the bloc in the future even as manufacturing of many products has moved to other shores.
The EU institutions are under significant lobbying pressure from a group of multinationals that make use of open cellular standards to build their ecosystems, but are opposed to paying a fair license fee for them. These multinationals look to free ride off of the R&D investment made by the contributors of innovative technologies, while at the same time locking customers into their proprietary technologies, and solutions which may not even be interoperable with others.
Moving away from the open standards system would have catastrophic effects on Europe's ambitions to be a strategic global player in the technology sector, would harm European consumers, and would seriously disincentivise innovation. The alternative to the open standards ecosystem is the closed innovation model. In that model, which is prevalent across the high-tech world, access to proprietary technologies and platforms is in the discretion of the gatekeepers of those platforms, which can impose heavy fees on those who use them.