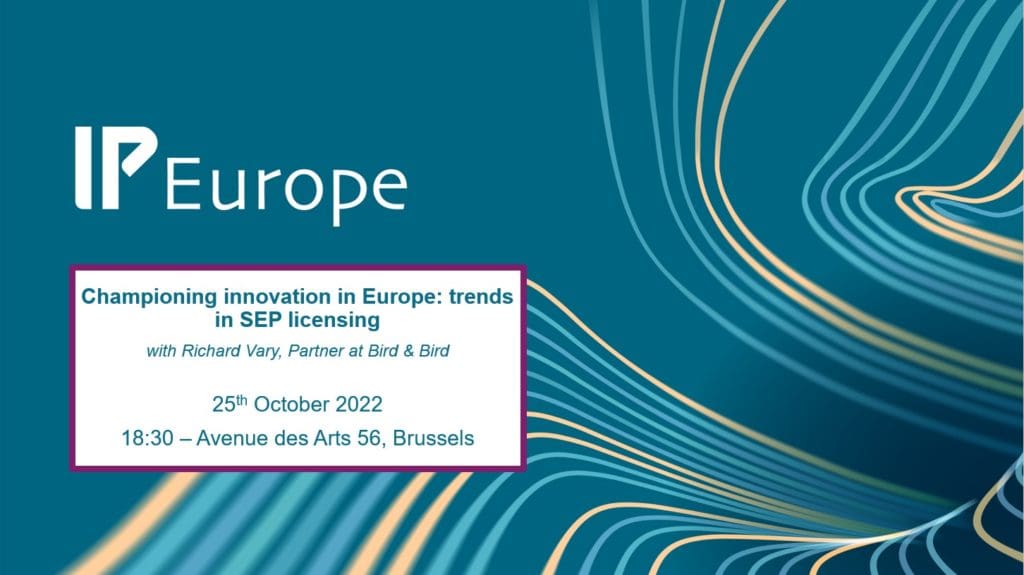 IP Europe is glad to invite you to its in-person networking event entitled Championing innovation in Europe: trends in SEP licensing. With Intellectual Property rights expert Richard Vary as the keynote speaker, we will be analysing and discussing potential changes to the European framework for licensing Standard Essential Patents (SEPs). The European Commission recently launched a call for evidence in the context of plans for a revision of this framework. IP Europe supports an efficient and sustainable SEP licensing ecosystem in which the interests of both SEP holders and implementers are considered, enabling European innovators to thrive by contributing their best technologies to the development of open standards.
The event will take place in person on Tuesday 25th October from 6.30 to 8.00 pm CEST at Avenue des Arts 56 in Brussels. The speakers' interventions will be followed by an informal exchange among participants in a light reception setting. Drinks and light refreshments will be served.
Please register HERE.
In case you have any queries about the event, please feel free to contact IP Europe at secretariat@ipeurope.org
About the speaker
Richard Vary is a specialist in patent disputes in the technology and communications industry. He is a partner in Bird & Bird's London office. On top of this, he has developed a unique expertise in the valuation of portfolios and FRAND. Before Bird & Bird, he was Vice President and Head of Litigation at Nokia, where he managed global commercial litigation and was part of the Legal & Compliance leadership team. He was awarded 'In-House Counsel of the Year' by "The Lawyer" and have twice been recognised in Managing IP's annual list of the 50 most influential people in intellectual property. He is a part-time District Judge in the London and South East circuit, and in the Intellectual Property Enterprise Court.
About IP Europe
IP Europe is a coalition of research- and development-intensive organisations whose inventions are protected by patents. Its members include licensors, marketers and implementers of patents including standard essential patents. IP Europe's mission is to promote policies that support a strong European innovation ecosystem and drive growth, job creation and the emergence of new European technologies, businesses and markets. Learn more at ipeurope.org.